Press release
5/30/2014 8:00 AM CET
Skanska, the world leading project development and construction group, welcomes the first tenant for its Green Court Bucharest office project in Bucharest, Romania. The French based multinational corporation Schneider Electric leased an office space of approx. 3,100 sq.m. in the first building of Green Court Bucharest. The transaction was mediated by Colliers International.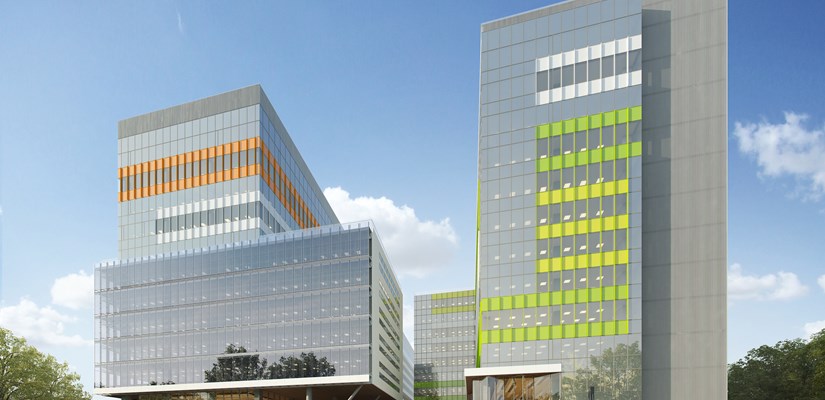 Schneider Electric is an international company specialized in electrical distribution, industrial automation and control applications, building management and security, critical power and cooling solutions and services. The tenant was looking for a building that is congruent to their business development strategy and corporate image: an innovative, technologized green building that allows the expansion of their current operations, in view of the future development of the company. Following a rigorous assessment, Schneider Electric opted for a 3,100 sq.m. modern office space in the first of the three buildings comprising Skanska Green Court Bucharest. The tenant was specifically attracted by the building's proximity to the Aurel Vlaicu metro station and excellent position in the heart of Floreasca-Barbu Vacarescu area, widely recognized as the new business district of Bucharest.
"We are pleased to announce that Schneider Electric Romania has become first tenant of Green Court Bucharest. We would like to thank Schneider Electric Romania for choosing our project as its new HQ in Romania.
The fact that Schneider is the global specialist in energy management and a world leader in energy efficiency is very close to Skanska's values, underlining our dedication to sustainable development", says Marcin Łapiński, President Skanska Property Romania.
"We chose Green Court Bucharest building to be our new headquarter, as the project developed by Skanska meets all our green buildings commitments and requirements. The project is designed in line with the latest office trends, will be LEED Gold certified, providing us, as tenants, the highest levels of comfort, an energy efficient workspace and access to a relaxing courtyard. We are very pleased to finding in Skanska a very professional and trustable partner, as Skanska is one of the world's leading project development and construction groups", says Florentina Totth, Country President Schneider Electric Romania.
"The green attributes, the carefully-monitored quality standards and above-market space efficiency of the building were indisputable arguments in favor of Green Court Bucharest. Skanska is a responsible developer, highly committed to building sustainable environments that provide tenants with unsurpassed comfort and an office space they can always count on. Schneider Electric Romania's relocation confirms that premium property development and a correct positioning of the building in the market represent the key to attract top tenants", states George Didoiu, Senior Associate in the Office Agency team of Colliers International, the consultant that mediated the transaction.
The relocation of Schneider Electric to Skanska Green Court Bucharest is the first office leasing transaction signed in Floreasca – Barbu Vacarescu area since the beginning of 2014.
Green Court Bucharest, the first office project developed by Skanska in Romania, will be completed in three phases, with the first building (19,500 sq.m.GLA) to be delivered in October 2014. The building has 12 floors above-ground, 3 underground parking levels with 264 parking places and offers facilities such as: parking and facilities for cyclists (lockers and showers), interior courtyard with Wi-Fi.
Green Court Bucharest is developed using green technologies and sustainable solutions such as the energy efficient façade which reduces the solar heat gains, the enhanced fresh air flow rate for a healthier working environment, the energy efficient lighting systems equipped with motion and intensity sensors or the charging stations for electrical cars.
The project will be LEED Gold certified and will provide the highest levels of comfort for its tenants, one of the most efficient and versatile workspaces in Bucharest (density up to 1:6 sq.m.) and excellent quality standards.
Skanska Romania
Skanska Romania is an innovative developer of green office buildings creating friendly environment for business growth. The company has been operating in Romania since 2011 and is part of the Skanska Group, world leader in project development and construction. The projects of Skanska Romania offer top-quality office space at great locations, which ensures success and satisfaction of tenants and investors. All the investments of Skanska Romania will undergo LEED certification process confirming their compliance with the principles of sustainable development, optimal energy consumption and superior work environment.


Skanska Commercial Development Europe
SKANSKA Commercial Development Europe initiates and develops property projects in office, logistics and commercial buildings. The company's operations are concentrated in metropolitan areas in Hungary, the Czech Republic, Romania and Poland and are conducted in four local units: Skanska Property Czech Republic, Skanska Property Hungary, Skanska Property Romania and Skanska Property Poland. More information about Skanska Commercial Development Europe can be found at www.Skanska.com/property.


Skanska Group
Skanska is one of the world's leading project development and construction groups, with expertise in construction, development of commercial properties and residential projects as well as public-private partnerships. Based on the Group's global environmental know-how, Skanska aims to be a leader in the development and construction of green projects. The Group currently has 57,000 employees in selected home markets in Europe, the U.S. and Latin America. Skanska's revenue in 2012 totalled SEK 132 billion.
Schneider Electric
As a global specialist in energy management with operations in more than 100 countries, Schneider Electric offers integrated solutions across multiple market segments, including leadership positions in Utilities & Infrastructure, Industries & Machines Manufacturers, Non-residential Building, Data Centers & Networks and in Residential. Focused on making energy safe, reliable, efficient, productive and green, the Group's 140,000 plus employees achieved sales of 24 billion Euros in 2012, through an active commitment to help individuals and organizations make the most of their energy.
Colliers International is a global leader in commercial real estate services, with over 13,500 professionals operating out of more than 482 offices in 62 countries. A subsidiary of FirstService Corporation, Colliers International delivers a full range of services to real estate users, owners and investors worldwide, including global corporate solutions, brokerage, property and asset management, hotel investment sales and consulting, valuation, consulting and appraisal services, mortgage banking and insightful research. In EMEA Colliers is headquartered in London, and our clients benefit from the experience and expertise of more than 2,200 specialists throughout 37 countries in the region.
For further information, please contact:
Lidia Pitulea
The Public Advisors
Phone: 0733 300 777
E-mail:

Monica Bejan
Skanska Romania
Phone: 0725 726 444
E-mail:

Daniela Penescu
Colliers International
Phone: 0730 712 509
E-mail:

Alina Rosu
Schneider Electric Romania
Phone: 0748 028 897
E-mail: