Press release
11/28/2014 8:00 AM CET
Skanska announces the sale of the first building in Green Court Bucharest. The circa 44 million Euros transaction was signed with the real estate investment company Globalworth Real Estate Investments Ltd and the closing of the transaction is scheduled for Q2 2015.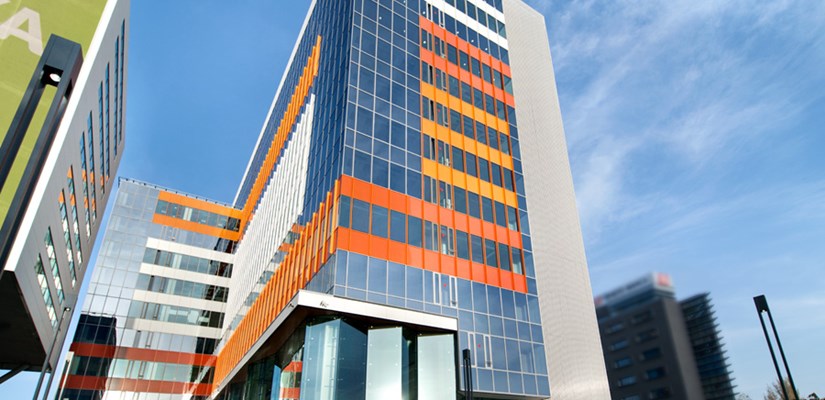 The first building of Green Court Bucharest has a leasable area of 19.500 sqm and was officially opened at the end of October 2014. It is now 91% leased with tenants such as Schneider Electric Romania, Orange Romania, LS TRAVEL RETAIL Romania (1 Minute concept) and CORPORATE MANAGEMENT EVENTS (Best Chef). The building will be delivered fully-leased upon closing.
"We are glad we can announce the sale of the building shortly after its completion. We have been on the Romanian market for 3 years now, and the fact that we have succeeded with this transaction proves the quality of our work. We would like to thank Globalworth Real Estate Investments Ltd, for the smooth and fruitful cooperation." says Marcin Łapiński, President of Skanska Property Romania
Dimitris Raptis, Deputy Chief Executive Officer and Chief Investment Officer of Globalworth Real Estate Investments commented: "We are pleased to announce the acquisition of the first building of Skanska's Green Court development project. This prestigious newly built A-class office property is strategically located in Bucharest's new central business district. It benefits from top environmental credentials and is let to top-brand tenants on long term leases. This transaction constitutes an important milestone towards achieving our objective of owning the highest quality portfolio in the Bucharest office market."
Green Court Bucharest is the first project developed by Skanska in Romania. The project is comprised of 3 office buildings with a total leasable area of 52.000 sqm and has received LEED Gold pre-certification.
Green Court Bucharest is developed using ecological technologies and sustainable solutions such as an energy efficient façade which reduces solar heat gains, enhanced fresh air flow rate for a healthier working environment, energy efficient lighting systems equipped with motion and intensity sensors, as well as charging stations for electrical cars.
Skanska Romania
Skanska Romania is an innovative developer of green office buildings creating friendly environment for business growth. The company has been operating in Romania since 2011 and is part of the Skanska Group, world leader in project development and construction. The projects of Skanska Romania offer top-quality office space at great locations, which ensures success and satisfaction of tenants and investors. All the investments of Skanska Romania will undergo LEED certification process confirming their compliance with the principles of sustainable development, optimal energy consumption and superior work environment.
Skanska Commercial Development Europe
SKANSKA Commercial Development Europe initiates and develops property projects in office, logistics and commercial buildings. The company's operations are concentrated in metropolitan areas in Hungary, the Czech Republic, Romania and Poland and are conducted in four local units: Skanska Property Czech Republic, Skanska Property Hungary, Skanska Property Romania and Skanska Property Poland. More information about Skanska Commercial Development Europe can be found at www.Skanska.com/property.
Skanska Group
Skanska is one of the world's leading project development and construction groups, with expertise in construction, development of commercial properties and residential projects as well as public-private partnerships. Based on the Group's global environmental know-how, Skanska aims to be a leader in the development and construction of green projects. The Group currently has 57,000 employees in selected home markets in Europe, the U.S. and Latin America. Skanska's revenue in 2013 totalled SEK 136 billion (EUR 15.8 billion).
Globalworth Real Estate Investments Limited
Globalworth Real Estate Investments Limited is a real estate investment company founded by real estate investor and developer Ioannis Papalekas to take advantage of investment opportunities in Romania and the broader SEE and CEE regions. The Company is Guernsey incorporated and has been declared by the Guernsey Financial Services Commission to be a registered closed-ended collective investment scheme. For further information visit www.globalworth.com.
For further information, please contact:
Monica Bejan
Skanska Romania
Phone: 0725 726 444
E-mail:

Lidia Pitulea
The Public Advisors
Phone: 0733 300 777
E-mail:

Tim Draper
Milbourne (Public Relations)
Phone: +44 20 3540 6458
E-mail: