Press release
8/11/2014 8:00 AM CET
Skanska, the world leading project development and construction group, announces its first tenant for the second building of Green Court Bucharest. Sanofi Romania, a leading pharmaceutical company with a diversified and complex portfolio in our country, leased an office space of approx. 2.200 sq m and will move into its new office in June 2015. Sanofi Romania was represented by Jones Lang LaSalle.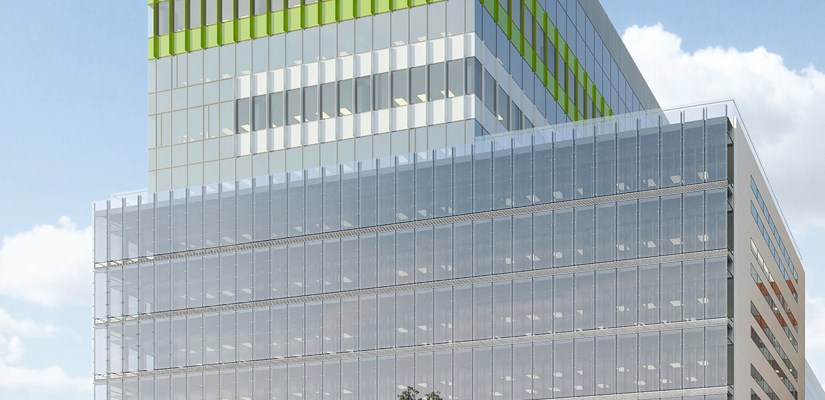 So far Skanska has leased approx. 19.000 sq m in the whole complex. Apart from Sanofi Romania, the companies which also decided to move to Green Court Bucharest are Orange Romania and Schneider Electric.
"I have pleasure to welcome Sanofi Romania as our tenant. It is great to see that our project is attracting such great companies like Sanofi. I would like to thank both teams for hard work and smooth negotiation process. I am confident that Sanofi Romania employees will enjoy new office and appreciate buildings' amenities.
As for construction progress on Building B, we are currently conducting structural works and soon we will commence façade works. ", says Marcin Łapiński, President Skanska Property Romania.
"Taking care of our employees and creating a safe and comfortable workplace has always been a top priority for Sanofi. We constantly focus on providing the highest quality standards possible, well adapted to people needs, paying attention to all the details that could ensure a working environment that nurtures high performance while connecting people and promoting open communication.
Based on its high expertise in developing office buildings, Skanska managed to respond very well to our needs. I am confident that the new office space will enhance the possibilities of better working together, actively engaged to fulfill our mission of offering and increasing access to better therapeutic solutions to Romanian patients every day", said Christophe Gourlet, Country Manager Sanofi Romania.
Office building B of Green Court Bucharest will provide a total rentable area of approx. 18.000 sqm, out of the total of 52.000 sqm of the entire complex. Building B will have 12 stories above ground, plus the three levels of underground garage, with a total of 315 parking lots. Its completion is scheduled for Q2 2015.
The second phase of the Green Court Bucharest will also feature a number of sustainable solutions in order to minimize the building's environmental footprint and significantly reduce its operating costs. The modern technologies such as the energy efficient double skin facade and the illuminating system equipped with motion and intensity sensors will guarantee a comfortable work environment.
Special parking places and facilities for bicycles, a green interior courtyard with free Wi-Fi and charging plugs for electrical cars will also be available.
Skanska Romania
Skanska Romania is an innovative developer of green office buildings creating friendly environment for business growth. The company has been operating in Romania since 2011 and is part of the Skanska Group, world leader in project development and construction. The projects of Skanska Romania offer top-quality office space at great locations, which ensures success and satisfaction of tenants and investors. All the investments of Skanska Romania will undergo LEED certification process confirming their compliance with the principles of sustainable development, optimal energy consumption and superior work environment.


Skanska Commercial Development Europe
SKANSKA Commercial Development Europe initiates and develops property projects in office, logistics and commercial buildings. The company's operations are concentrated in metropolitan areas in Hungary, the Czech Republic, Romania and Poland and are conducted in four local units: Skanska Property Czech Republic, Skanska Property Hungary, Skanska Property Romania and Skanska Property Poland. More information about Skanska Commercial Development Europe can be found at www.Skanska.com/property.


Skanska Group
Skanska is one of the world's leading project development and construction groups, with expertise in construction, development of commercial properties and residential projects as well as public-private partnerships. Based on the Group's global environmental know-how, Skanska aims to be a leader in the development and construction of green projects. The Group currently has 57,000 employees in selected home markets in Europe, the U.S. and Latin America. Skanska's revenue in 2013 totalled SEK 136 billion (EUR 15.8 billion).
About Sanofi
Sanofi, a global healthcare leader, discovers, develops and distributes therapeutic solutions focused on patients' needs. Sanofi has core strengths in the field of healthcare with seven growth platforms: diabetes solutions, human vaccines, innovative drugs, consumer healthcare, emerging markets, animal health and the new Genzyme. Sanofi is listed in Paris (EURONEXT: SAN) and in New York (NYSE: SNY).
For further information, please contact:
Lidia Pitulea
The Public Advisors
Phone: 0733 300 777
E-mail:

Monica Bejan
Skanska Romania
Phone: 0725 726 444
E-mail: