Press release
8/30/2013 1:00 PM CET
As it finalizes the foundation and lays the cornerstone of the Green Court Bucharest project, the Swedish developer Skanska takes an important step in the construction of its first project in Romania. The building is coming out of the ground with works proceeding at speed. The first phase of the project will be finished ahead of schedule.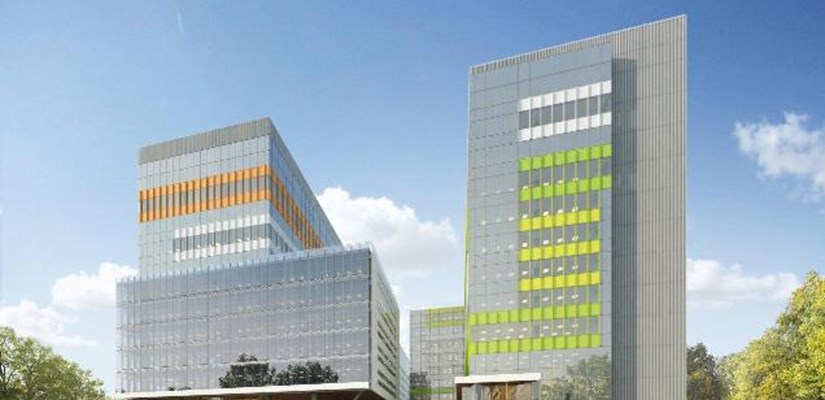 The cornerstone ceremony was attended by Mr. Neculai Ontanu, Mayor of District 2, Bucharest, Mr. Johan Karlstrom, CEO and President Skanska AB, Mr. Marcin Lapinski, President of Skanska Property Romania and Mr. Richard Burleigh, President of Skanska Construction Romania. During the event the time capsule was placed into a bricked construction and everyone individually contributed to building a solid wall around it. After the ceremony, the guests had a chance to network and discover Skanska's projects worldwide. The company is known for its over 125 years of experience in the field of construction and project development and among its most visible projects are the Oresund Bridge connecting Sweden and Denmark, rebuilding of transportation hub at World Trade Centre in New York and the "Gherkin" Swiss Re office building in London. The company worldwide portfolio of developed office projects consists of over 2 mln sqm of modern space.
"At Skanska we know how important the working environment is to both our tenants and their employees so we don't just build offices, we create modern workplaces, in which they can truly thrive. Our healthy indoor environment reduces sick leave and enables higher productivity, which means better business and financial benefits for our customers" - said Marcin Lapinski, President of Skanska Property Romania.
"I am happy to announce that the works for Green Court Bucharest are proceeding well and we are ahead of schedule. This is also due to the fact that we have put together an excellent team of locally recruited professionals. With our knowledge, experience and financial strength we assure the project is delivered on time, with the best quality, in a safe manner, consistent with the promises we made" - added Richard Burleigh, President of Skanska Construction Romania.
Green Court Bucharest will consist of three A class office buildings, with a total rentable area of 52.000 square meters. Each building will have 12 above ground levels and three underground levels. Following the standard of other buildings developed by Skanska in Central and Eastern Europe, the project will be LEED Gold certified.
The first stage of the investment includes an office building with a total rentable area of 19.500 square meters as well as the underground parking for the first two buildings of the complex.
Skanska Romania
Skanska Romania is an innovative developer of green office buildings creating friendly environment for business growth. The company has been operating in Romania since 2011 and is part of the Skanska Group, world leader in project development and construction. The projects of Skanska Romania offer top-quality office space at great locations, which ensures success and satisfaction of tenants and investors. All the investments of Skanska Romania will undergo LEED certification process confirming their compliance with the principles of sustainable development, optimal energy consumption and superior work environment.


Skanska Commercial Development Europe
SKANSKA Commercial Development Europe initiates and develops property projects in office, logistics and commercial buildings. The company's operations are concentrated in metropolitan areas in Hungary, the Czech Republic, Romania and Poland and are conducted in four local units: Skanska Property Czech Republic, Skanska Property Hungary, Skanska Property Romania and Skanska Property Poland. More information about Skanska Commercial Development Europe can be found at www.Skanska.com/property.


Skanska Group
Skanska is one of the world's leading project development and construction groups, with expertise in construction, development of commercial properties and residential projects as well as public-private partnerships. Based on the Group's global environmental know-how, Skanska aims to be a leader in the development and construction of green projects. The Group currently has 57,000 employees in selected home markets in Europe, the U.S. and Latin America. Skanska's revenue in 2012 totalled SEK 132 billion.
For further information, please contact:
Lidia Pitulea
The Public Advisors
Phone: 0733 300 777
E-mail:

Contact:
Aurelia Luca
, Evp Operations Hungary And Romania