Press release
7/27/2023 12:00 PM CET
During the 22nd edition of the Business Review Realty Forum on July 20, 2023, Skanska Romania was awarded the title of "Best Office Experience and Resident Satisfaction Level." The award is a recognition of the dedication shown by the Skanska team in creating a welcoming and dynamic working environment in Equilibrium 1, where residents feel excellent.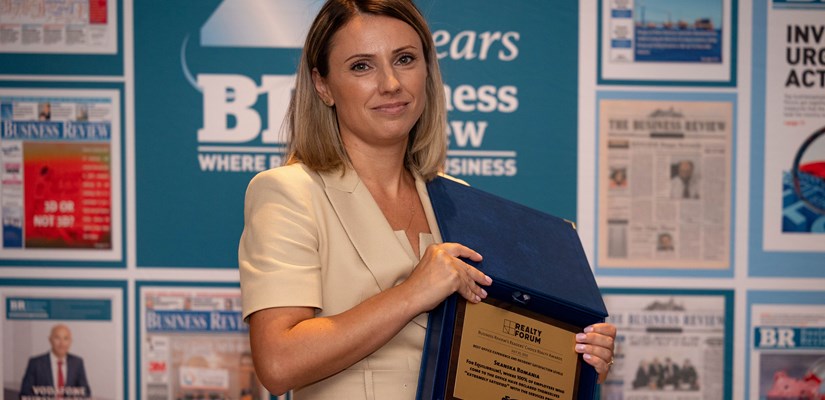 According to the latest survey conducted in May of this year among the residents of the Equilibrium 1 office building, 100% of the employees who come to work there declared themselves "absolutely satisfied" with the services provided by Skanska and Property & Facility Management teams. The highest satisfaction score, 91%, was given to the green space of the complex, which has wireless coverage and is equipped with urban furniture with electrical outlets. The HoReCa services (food & coffee) along with amenities such as bicycle lockers and other building facilities generated a satisfaction rate of 83%.
When asked about their vision of the ideal office building, respondents answered that it should have restaurants and host events.
Furthermore, more than 88% of the respondents mentioned that it is essential for them to work in an office building like Equilibrium 1, which reduces its carbon footprint through: resource optimization solutions (energy, water, waste management), and the 100% renewable energy system integrated into the building.
Thus, creating a harmonious work environment leads to overall satisfaction and efficiency, and this is one of the reasons why today over 90% of the employees working at Equilibrium 1 come to the office every week.
 Anamaria Crețu Leasing & Asset Manager Skanska România said: "Skanska's mission is to build for a better society, to bring value to the communities around us. This belief is at the heart of our projects and guides our entire activity. The 'Best Office Experience and Resident Satisfaction Level' award was made possible thanks to a perfect mix of teamwork, 100% involvement, and constant search for the best solutions for the comfort and well-being of Equilibrium 1 employees. We believe that nothing is possible without each member of the Skanska team, and we are extremely delighted that our commitment is recognized both by the residents and the readers of Business Review."