Press release
5/16/2023 10:00 AM CET
This year's survey, in its third edition, recorded a response rate of 76% and reveals how much residents appreciate their office experience. The findings are a confirmation that the actions and initiatives carried out by the Skanska team together with the Property and Facility Management team in Equilibrium have achieved their goals.
The study was conducted in March 2023 among the tenants of the first building in the Equilibrium complex.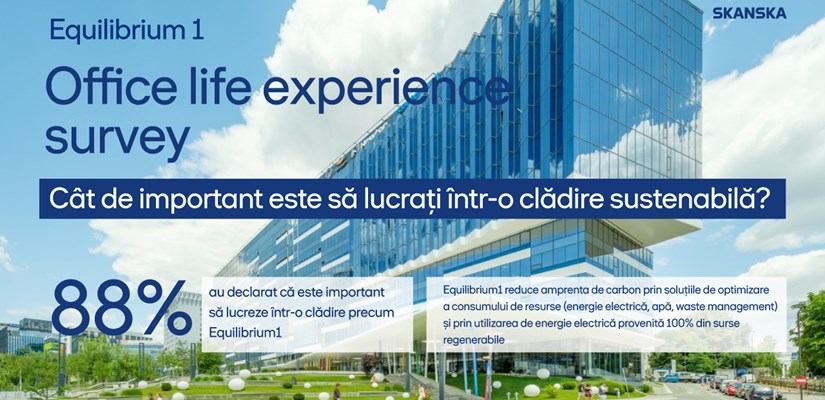 According to the Office life experience questionnaire in Equilibrium1, 100% of employees who come to the office have declared themselves "extremely satisfied" with the services provided by the Skanska team in the building. The highest satisfaction score, 91%, was given to the placemaking of the complex, a garden that integrates urban furniture equipped with electrical outlets and wireless hotspots. At the same time, services such as HoReCa (food & coffee) along with amenities like changing rooms for cyclists and other building facilities generate a satisfaction level of 83%.
"Our projects are built around the idea of community and seamlessly combine the elements necessary for a dynamic professional life with those of personal life," says Anamaria Crețu, Leasing & Asset Manager at Skanska Romania. "In Equilibrium, we have built a vibrant community of companies, of which we are very proud. As shown by the Office life experience in Equilibrium1, our residents value communication the most, followed by responsiveness and flexibility in terms of building management and support provided to employees, and that is a great satisfaction for us."
The annual Skanska study also reveals that 50% of the building occupants work from the office 5 days a week, 8% prefer a 4-day schedule, 25% opt for 3 days, and 17% choose 2 days of office work. Furthermore, when asked about the ideal office building in their vision, respondents mentioned that it should have restaurants and host events, such as special activations during international days.
Last but not least, over 88% of the respondents mentioned that it is important for them to work in an office building like Equilibrium 1, which reduces its carbon footprint through resource optimization solutions (energy, water, waste management) and a 100% renewable electrical energy system integrated into the building. These carefully implemented measures, with a focus on the environment, have led to a 38% reduction in energy consumption in the building.
Both Equilibrium 1 and Equilibrium 2 are office buildings constructed with special attention to the comfort, safety, and health of the residents and users. As a result, both buildings are LEED Platinum certified, and Equilibrium 2 obtained the Net Zero Carbon Buildings pre-certification in 2022, developed in collaboration with the Romanian Green Buildings Council (ROGBC).
Lastly, the Office life experience questionnaire in Equilibrium1 indicates that the occupants are open to recommending Equilibrium offices as their preferred working environment, with a score of 4.87 out of 5 stars.