Press release
6/1/2022 8:00 AM CET
In four Central European countries, Skanska employees are simultaneously organizing volunteer help where needed. Hundreds of employees from the Czech Republic, Slovakia, Poland, and Romania participated in the ninth edition of Lend a Hand, helping twenty-three non-profit organizations.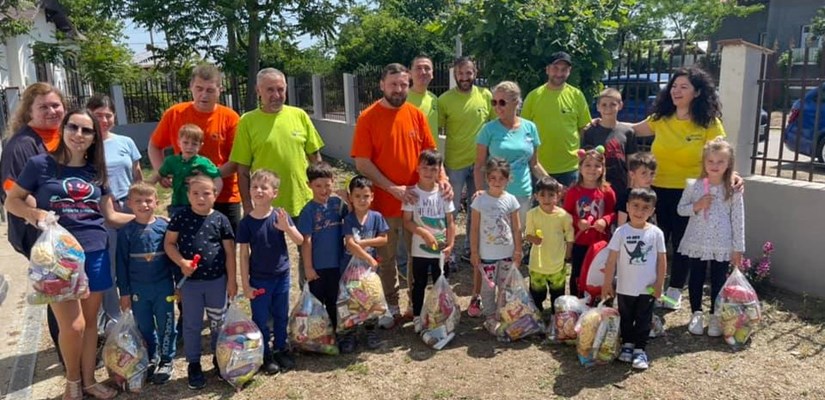 Since 2014, Skanska employees have been selecting several organizations near their workplaces to spend a day of paid time off volunteering. These include non-profit organizations as well as educational and healthcare facilities. The event is attended not only by employees from the offices but also by employees from projects under construction.
"Our Volunteer Week is all the more interesting because it is an activity that comes directly from our employees. They decide where to help and organize the help themselves. And it's not just volunteer help, it's also great team-building and psycho-hygiene." says Michal Jurka, President of Skanska Central Europe, who together with dozens of colleagues took part in the improvement of the park at the Children's Centre at the Thomayer University Hospital in Prague.
Over the past 9 years, more than 1,500 employees have participated in the event, working 12,500 hours and helping 193 organizations. However, Skanska employees can choose their volunteer day at any time during the year so that the company's normal operations, both on construction sites and in the offices, are not disrupted.
"On behalf of Fabrica de Daruri, I would like to thank all Skanska Romania team for their support. I saw a united team, with a big heart and a great desire to give a helping hand to the children and elderly people we visited. Thanks to them, we were able to pack and transport the first 250 food and toy parcels out of the 1000 we gave to those who are so much in need on the occasion of June 1st. I hope to continue the collaboration and that you will continue to help us visit children and the elderly as time permits. You are a beautiful team and I am deeply grateful" - Gina Neacșu (founder of Fabrica de Daruri)
Who did Skanska employees help this year?
RO - Non-governmental organization that is concerned about the care of children and the elderly, Bucharest
PL - L`Arche Foundation in Wrocław, Community Centre Biegonice in Nowy Sącz, Social Welfare Home in Poznań, Rybałtów Housing Community in Warsaw, Serduszko Foundation - Wawer Farm in Warsaw, Volunteer Training Centre in Stara Dąbrowa, "Tęcza" Association Club in Kraków.
CZ - IRIS Ecocentre Olomouc, Thomayer Hospital Prague, Krč Children's Centre, Studénka Charity Ostrava, Eliška Přemyslovna kindergarten Brno, Sluňákov Nature House Olomouc, Meditation Garden Lipník nad Bečvou, Píšťalka Kindergarten Přerov, Třinec Children´s home, Toulcův dvůr Prague
SK - New Home Prievidza, Animal Rescue Center Zázrivá Martin, Hojdana Maternity Center Bratislava, Social Assistance Center Košice