Press release
5/31/2022 1:00 PM CET
Skanska's commercial development business unit in Central and Eastern Europe (CEE) continues its strategic focus on creating future-proof and sustainable places by appointing new directors responsible for developing and leading teams in Environmental and Health & Safety areas.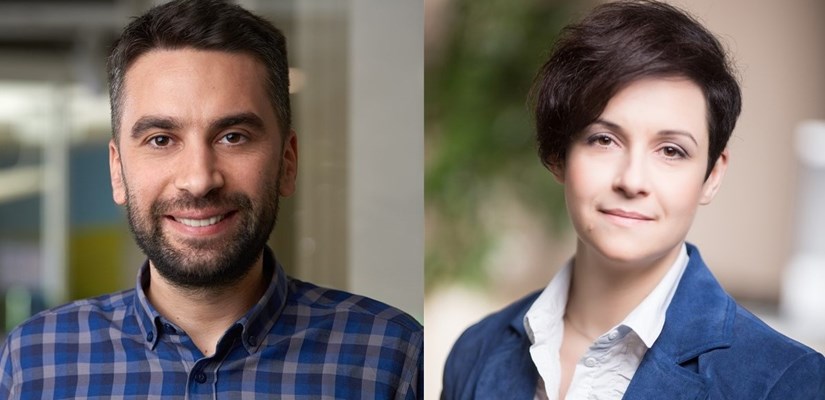 Veronika Themerson is now the company's Environmental Director, while Mircea Bosie serves as the Health and Safety Director. From their new roles, Themerson and Bosie will lead teams across Skanska's business unit in CEE - Poland, Czech Republic, Hungary, and Romania. The two departments are coordinated by Jacob Møller-Nielsen, Executive Vice President of the Center of Excellence of the Business Development Division of Skanska CEE.
"Care for life is one of Skanska's core values, therefore protecting our people and the planet lies at the very heart of what we do. In situations that are physically or psychologically unsafe, we refuse to be bystanders. This applies to the environment and climate change, too" - declares Jacob Møller-Nielsen, Executive Vice President of the Center of Excellence at Skanska's commercial development business unit in Central Eastern Europe, to which the newly appointed directors report. Safeguarding the environment and ensuring health and safety for all are integral parts of the Skanska Group's business strategy.
"With their experience, technical and managerial skills, in-depth knowledge of industry trends, standards, and our organization, Veronika and Mircea are excellently positioned to shape and implement our agenda in these strategically important areas across the CEE region" - adds Jacob Møller-Nielsen.
Mircea Bosie is a health & safety expert and manager with a career spanning almost 15 years in the real estate sector. In his new role, Mircea is responsible for setting and planning the business unit's standards in the area of Health & Safety (H&S) in line with the Skanska Group's strategy, H&S Management System, and implementing relevant regulations. He joined Skanska in 2012 and since then has worked in several specialist and managerial roles, including a 6-month assignment in the Skanska Infraservice Division in Sweden. Shortly before taking the position of director, he served as H&S Manager in the office development unit, covering Romania, Hungary, and the Czech Republic.
"From the very beginning, Skanska has been committed to prioritizing and promoting quality: in buildings, in services, and in life - whether we are talking about people or about the environment. Health and safety, along with sustainable strategies, are all key parts of the company's mission to build for a better society. From this new role and together with our teams, I want to carry forward these values and accelerate the transition to a safer, healthier, and more aware environment and society when it comes to the importance of health and safety in everyday life"- he adds Mircea Bosie, Director of Health & Safety at Skanska CEE.
Veronika Themerson is a real estate project manager, architect, and people leader with a 20-year track record. In her new role, she will be responsible for shaping, planning, and implementing Skanska's office development business unit's strategy in the area of sustainable solutions and innovation. She also coordinates ESG-related knowledge gathering and sharing activities across the business unit, collating expertise from the Environmental, Technical Quality & Innovations, Human Resources, Health & Safety, Community Investment, Legal & Compliance, and other areas. Veronika joined Skanska in 2013 and has held managerial and director positions. She was also involved in several transactions of purchasing land plots and processes of selling buildings.
Safeguarding the environment
Commercial real estate development and the built environment, in general, consume large amounts of materials, water, and energy. Creating and applying climate-smart solutions reducing the negative impact of these sectors on the environment, as well as mindful use of resources and responsible handling of chemicals on our projects are the foundations of Skanska's way of working.
The developer is working towards reducing its own carbon emissions to reach net-zero across its value chain by 2045. With 2015 being the reference year, to date, the company has reduced its carbon footprint by 46 percent. The progress Skanska is making in achieving its carbon targets has recently been recognized by the Financial Times newspaper and Statista data insight firm by naming the company one of Europe's Climate Leaders. Skanska's climate target is accredited by the Science-Based Targets initiative (SBTi), which confirms that the company is contributing to achieving the Paris Agreement goal of keeping global warming at 1.5 Celsius degrees.
Ensuring health and safety for all
The safety of employees and subcontractors is Skanska's highest priority. The company sets health and safety standards on construction sites and in operations. It applies industry-leading safety principles and solutions, coupled with systematic performance monitoring and introducing improvements.
More information about sustainability and H&S at Skanska can be found in the company's "Annual and sustainability report", available in English here.