Press release
1/27/2021 8:00 AM CET
Skanska, one of the leading development and construction companies in Europe, has achieved the WELL Health & Safety Rating for eight properties in Poland, Romania, and the Czech Republic. Skanska is the first office developer in the region to meet the new International WELL Building Institute's requirements for the standard locations (multiple) option. Skanska insists on the importance that more buildings are certified in order to generate confidence in people to go back to their offices, and intends to pursue the WELL Health & Safety Rating for all its properties.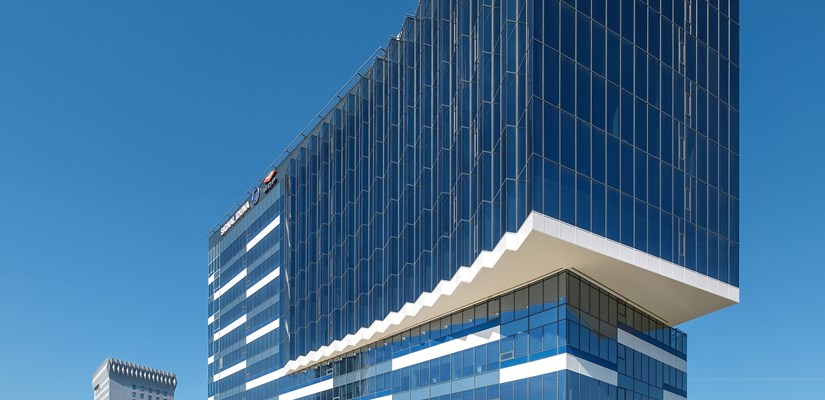 In order to ensure the safety of workplaces and adapt properties to the challenges of the current reality, Skanska has established several rules and adjusted its buildings by implementing facility management sanitizing and disinfection plans, as well as office air quality management and advanced solutions reducing the amount of hand contact on high-touch surfaces. The safety measures and actions that were taken, allow maintaining proper social distancing rules, help people stay safe, and have recently been approved by the International WELL Building Institute, which confirmed that 8 Skanska buildings have successfully met the requirements of the new WELL Health & Safety Rating. The following Skanska projects have been rated:
First phase of the Equilibrium in Bucharest (Romania)
Second phase of Campus in Bucharest (Romania)
First phase of Centrum Południe in Wrocław (Poland)
First phase of Wave in Gdańsk (Poland)
Second phase of Spark in Warsaw (Poland)
Two buildings of Brama Miasta in Łódź (Poland)
Parkview in Praga (the Czech Republic)
In addition, the third building of the Campus project - Campus 6.3 - is in the process of being audited for WELL Health & Safety Rating, at the same time the project is in the process of being audited for WELL Rating.
The rated projects comprise a total office space of approx. 162 000 sqm and have been verified, among others, in terms of cleaning and sanitization procedures, emergency preparedness programs, and air and water quality management. These features have also been part of the new offer by Skanska, called 'Care for Life Office Concept', which includes recommendations and consultancy regarding new hygiene, safety protocols, adjustment of existing technologies in Skanska's buildings, and reorganization of office areas.
"In the era of a pandemic, Skanska - as a developer - wants to ensure the health and safety of people in our office projects. Regardless of the current situation, offices play a huge role in creating organizational, collaborative cultures and maintaining relations between employees or teams. We had been implementing innovative and touchless technologies long before the pandemic, which with time have become a standard on our markets over the years," said Jacob Møller-Nielsen, EVP Center of Excellence at Skanska commercial development business in Central Eastern Europe. "We are proud that eight of our office projects have achieved WELL Health & Safety Rating. Not only does it prove the high quality of our spaces but also confirms our consistency and the fact that the solutions implemented so far are tailored to respond to the current pandemic situation and are ready to meet the needs of our tenants and their employees," continues Jacob Møller-Nielsen.
"Congratulations to Skanska Commercial Development Europe for achieving the WELL Health-Safety Rating at eight properties in Eastern Europe and leading the way to prioritise the health and safety of its people during this time. Skanska in Eastern Europe has implemented important operational interventions backed by scientific evidence to enable their employees and tenants to be confident in their workplace and get back to business," says Rachel Hodgdon, President and CEO at International WELL Building Institute (IWBI).
The WELL Health & Safety Rating is an evidence-based, third-party verified rating for new and existing buildings and facility types focusing on operational policies, maintenance protocols, stakeholder engagement, and emergency plans. It's designed to empower owners and operators to take the necessary steps to prioritize the health and safety of their tenants, visitors, and other stakeholders. The WELL Health & Safety Rating can help guide users in preparing their spaces for re-entry in a post-COVID-19 environment, fostering confidence for tenants. The main aim of the WELL Health & Safety Rating is to prepare companies for potential upcoming emergency situations and allow them to re-enter spaces quickly and efficiently. "One of Skanska's core value is 'care for life', so through achieving the WELL Health & Safety Rating we want to help create safe workplaces and reduce the risk of illness. As a market leader we want to prove to the industry that going to the office is possible, despite the unfavorable circumstances we are facing," adds Jacob Møller-Nielsen.