Press release
6/23/2020 8:00 AM CET
Skanska has established several rules and adapted its workplaces in Central and Eastern Europe, to allow people to return safely to offices. The changes include new hygiene and safety protocols, reorganization of the working spaces and the use of the technologies already integrated in the buildings.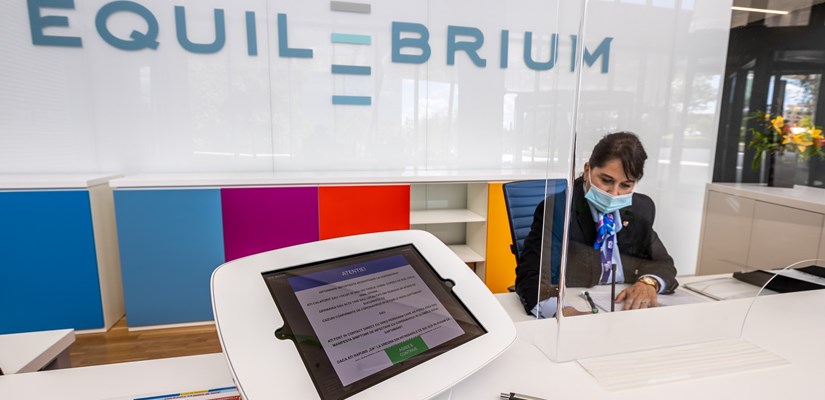 In the office market the first protective measures had been implemented from the start of the pandemic in the region, and now, once the employees return to office, the way they work will be adapted to the new normality. Skanska commercial development business unit in CEE implemented a new series of measures developed in cooperation with external experts, for every single building from its portfolio. The office real estate market leader operates on ten city markets in four countries: Czech Republic, Hungary, Romania and Poland.
After nearly two months of working from home, Skanska employees are returning to their offices gradually, in strict accordance with a previously prepared schedule and all the necessary safety precautions. In order to keep the social distancing rules, only half of the total workforce will be coming into the office each day, which is managed via Microsoft's Shift scheduling tool. Employees are informed quickly and directly through dedicated communication channels, such as an Intranet website launched specifically for such updates.
Safety measures include designated work stations and separate zones for people in offices, decreased capacity of shared spaces and conference rooms, other rooms dedicated only to meetings with external clients and implementing the national regulations of several countries regarding protective equipment. To provide employees with clear guidelines and information on the new set up, Skanska offices have been equipped with specially designed Visual Identifications that help follow social-distancing policies. It includes posters and floor markings with recommendations for every area or room in the office and general rules to follow.
"Remote work was a global test, and now we are turning our attention to adapting office space to the new reality. We continued to have a very good collaboration also during this period of social distancing and our site on Campus 6 remained open, the activity continuing in conditions of maximum safety for all about 500 people. With the return to the office, we reorganized our workspaces to meet current needs and we set new safety standards in the buildings in the portfolio, not only in Romania, but also regionally, so that our tenants benefit from the best conditions. The safety and health of our employees, customers, partners and communities is the main priority of Skanska and goes hand in hand with one of our core values, Care for Life", said Aurelia Luca, Executive Vice President Operations Skanska Romania.
The first measures in the context of COVID-19, had been implemented by Skanska at the beginning of the outbreak in the region, in March. Whenever possible, Skanska employees were requested to work remotely (home office). The company was able to adapt to this way of working so quickly mainly due to flexibility in terms of working hours and home office rules, which have always existed in the company. But it would not have been possible without an extensive use of digital tools that greatly facilitate virtual meetings and everyday tasks.
The company has also introduced a shift system and additional control measures on construction sites and reinforced the existing hygiene rules. This double-track approach to safety measures, involving both Skanska's divisions, enabled the company to continue working on projects despite the challenges caused by the outbreak.
Buildings adapted to the new normality
In addition to actions that have already been taken by Skanska within its own office space, knowledge and new safety standards are also shared with the company's clients. This is a great example of cooperation between the owner, building managers and tenants, which is so crucial considering the return to offices process. In addition, based on the data obtained from these collaborations, Skanska will be able to contribute through its programs to rethinking the design of modern office spaces in order to prevent possible future pandemic risks.
In Bucharest, a series of measures were implemented in Equilibrium, the building situated in the most developped and active business center in the city, Floreasca – Barbu Văcărescu area. Here, employees who reach the access area are automatically scanned by a system that works with thermal imaging cameras. When a person has a temperature higher or equal with 37,3 degrees, it can be stopped automatically.
Also other facilities have been activated, as the registration without human touch, just using the tablet already installed. And for couriers, an area outside the building has been specially arranged, where there are also storage spaces (easy box type), so that the packages can be picked up or delivered safely, outside the building.
In addition to comprehensive disinfection measures, there have been installed dispensers with disinfectants at the entrances and in different common spaces. There have also been mounted carpets with disinfectant solution at the main entrance to the building, but also in the elevator area and not least nanoseptic films had been applied on the surfaces touched most often, as handles of the doors.
"Nowadays even more attention will be paid to the issues of safety, the quality of the working environment and the sanitary measures to ensure the continuous disinfection of the spaces in the building. What we want is to maintain a safe working environment for customers, visitors, partners, etc. Thus, in addition to the measures we took to protect our employees, we also support our tenants to do the same. We work closely with all partners, including experts, epidemiologists, to continue to implement the best measures. In conclusion, it is important to consider all measures because we want to be sure that employees and everyone around us will stay healthy while ensuring the business continuity", said Anne-Marie Diaconu, Leasing & Asset Director Skanska Property Romania.
Adapting office buildings, delivered by Skanska, to new sanitary requirements is easy due to their design and also thanks to the company's innovative solutions implemented.