Press release
11/22/2019 8:00 AM CET
Skanska has leased to Societe Generale a total of 10,500 sqm and 57 parking places in the third building of Campus 6 project, in Bucharest, Romania. Campus 6.3, where Société Générale will move to in Q4 2020, is expected to receive LEED Gold and WELL certifications, contributing to the well-being of its tenants. With this lease, the building is now 91% occupied.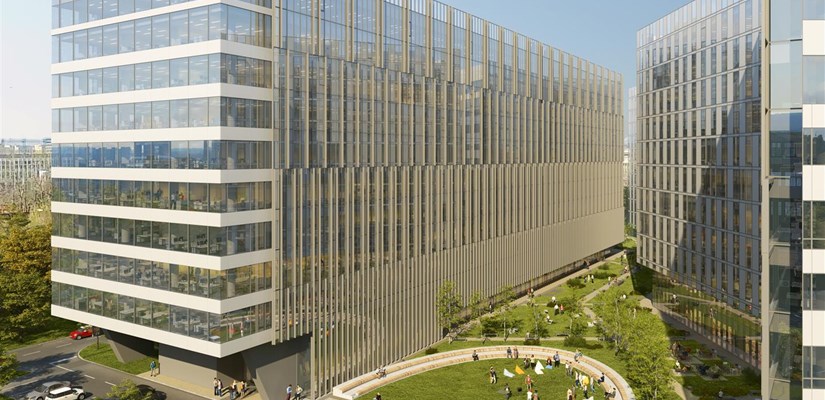 "Campus 6 is a project of firsts: WELL Certification, running track on the roof, Connected by Skanska integrated system. Since 2015, from the design phase, we promised ourselves that this project will become a space for the tech community, in which we bring together creative, curious and daring people. Now, when we look at what we created we consider this mission accomplished. We are proud to have by our side a partner like Societe Generale EBS , together being part of the community that shapes the future", said Aurelia Luca, Managing Director, Skanska România
Located in the central-western submarket of Bucharest, near the Politehnica University, Campus 6 office complex will comprise, at its entire delivery, of four office buildings with a leasable area of approx. 81.000 square meters. The whole complex brings added value to the local community, including facilities which offer an amazing user experience and generate social value. Among the amenities of Campus 6 is the 7.500 sqm placemaking, which incorporates gathering and working areas, facilities meant to be used mainly by tenants, students and the residents around the project. All this in an inspiring and youthful environment shaped around the real needs of its users.
"We are glad to announce the lease of this new location in Bucharest, in an area with big potential.
This step came naturally considering the fact that over the years we have become a trusted partner and we have managed to handle more and more projects which made us extend even more our teams.
Choosing this location was a result of a complex analyze that will mix our employees expectations and CSR / sustainability requierments from our partners.
We are sure that this new location will bring us even more closer to our future colleagues and that will offer to all our employees the environment they need to further develop within SG EBS" said Matthieu Pasquier, CEO of SG EBS.
"This new location will support our organization's growth while ensuring a balance of our operation locations between West Gate, our historical partner to which we remain committed for long term and Skanska" said Thierry Blain, COO SG EBS.
Campus 6.2 and Campus 6.3 are the first WELL Silver pre-certified buildings in Romania, following criteria aimed at improving health and well-being through the attributes of the built environment. The LEED Gold certification of this 2 buildings is a further confirmation of Skanska's focus to deliver green buildings with a maximum efficiency and a minimum impact on the environment, while also promoting a healthy work environment.