Press release
10/29/2018 8:00 AM CET
Skanska has leased to Microsoft Romania a total of 22,905.78 sqm of office space and 500 parking places, in Campus 6 office complex, in Bucharest, Romania. The start date of the lease is scheduled for the third quarter of 2020.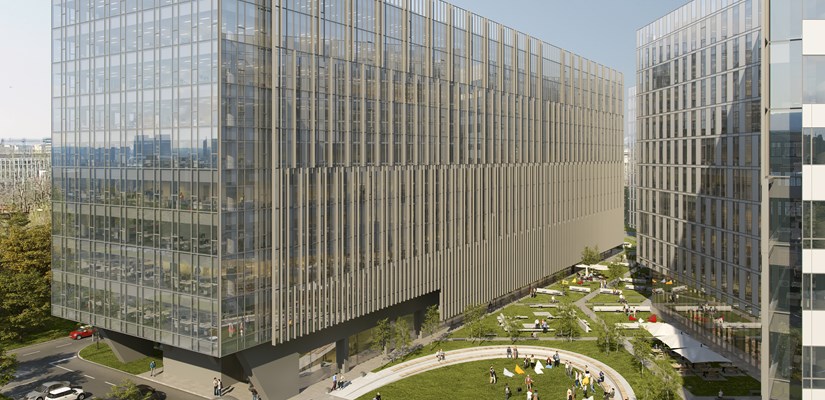 Campus 6 project will comprise, at its entire delivery in 2022, four office buildings with a leasable area of approx. 81.000 square meters and an urban garden of 7.500 sqm.
Located at the intersection of two main boulevards, Iuliu Maniu and Vasile Milea, the project benefits from excellent visibility and exposure, having great access to public transportation (metro station just across the street and trams, buses, trolleys within 50 m distance).
Campus 6 mobile app, part of Connected by Skanska integrated system, will connect all the services within the complex and in the neighborhood, offering buildings info, event news and features such as food delivery, car sharing and maintenance help service. Not only does it integrate smart technologies of the building, but most importantly it integrates people in a workplace.
A shared e-car service and fast chargers are available for tenants, as well as bicycle facilities with lockers, showers and bike repair station.
The buildings in which Microsoft will move are expected to receive LEED Gold and WELL Silver certifications, being built in compliance with the principles of sustainable development and with a careful respect to the environment and its tenants wellbeing.
The residents will benefit from a running track on the roof and outdoor co-working green spaces equipped with multipurpose furniture, electric sockets and Wi-Fi.
"Skanska, like Microsoft, is at the forefront of technological change. We create spaces that actively contribute to human health and wellbeing, by combining the best innovations with the welcoming and sustainable design. Campus 6 will be the first Skanska development in Romania to achieve WELL certification. The fact that for us wellbeing is not only about soft features, but also about the technology that eases the life of its residents is one of the reasons why Campus 6 is the choice of Microsoft Romania. – said Aurelia Luca, Managing Director of Skanska Property Romania.
Microsoft was assisted by advisory firm JLL during the process of searching for the best relocation and consolidation options and the negotiation of lease terms.
"Following the analysis conducted with JLL, Microsoft has decided to consolidate and expand its activities in Romania in the Center-West part of Bucharest, one of the most requested office area in Bucharest that offers very good working conditions for employees. We are very proud to be involved in one of the largest office transaction concluded in Bucharest in the last six years", said Maria Florea, Head of Office Agency JLL Romania.
Aside with JLL, Peli Filip for Skanska and Eversheds Sutherland Romania for Microsoft were advisers in the transaction, providing legal services.
"We are witnessing an increase in the office space market, largely supported by high-demand industries. One of the engines of this growth is undoubtedly the IT & C segment. We are in partnership with Skanska since 2011 and it is both an honor and a pleasure to assist them in such a the dynamic market," said Oana Badărau, Partner and Head of Real Estate, PeliFilip.
"As real estate lawyers, we enjoy the opportunity to play a meaningful role in projects that bring satisfaction and mark a significant value for our clients. The long-running transaction committed for Microsoft was complex as the Eversheds team, comprised of myself, Marius Berariu and Cristina Rosca, performed the relevant legal services against an ambitious timeline." stated Cristian Guia, Partner and Head of Real Estate - Eversheds Sutherland Romania.
Skanska is one of the leading development and construction companies in Europe. Outside the Nordics the company has its European operations in building construction and civil engineering located in Poland, the Czech Republic, Slovakia and the UK. Skanska develops commercial properties in select local markets in Poland, the Czech Republic, Romania and Hungary, and residential developments in Prague and Warsaw. Skanska also offers services in public private partnerships. In 2016, Skanska had sales of SEK 36 billion and about 16,500 employees in its European operations.