Press release
6/30/2018 8:00 AM CET
The goal was to redefine a vital part of every office building, by changing the lobby's function from a transit area to a welcoming space. Thanks to the collaboration with the world-renowned architectural studio, Henning Larsen, Skanska is creating a space with the feel of a Swedish summer house. The new lobby concept supports health and well-being in the workplace.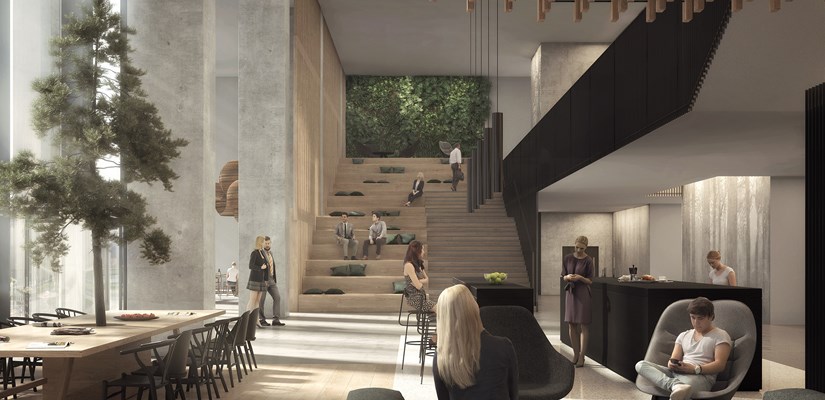 In Scandinavia, Sommarstuga – the traditional Swedish summer house – is the perfect example of a place where people can have some rest, meet with others, and spend some quality time. Because of its nature, Sommarstuga has become the basis for the rethinking and redesign of the Skanska office lobby.
"At Henning Larsen, our Scandinavian approach aims to deliver design solutions that govern equality, innovation, and functionality. Sharing the same Scandinavian origin, we are proud to continue our collaboration with Skanska. With Henning Larsen's experience to challenge, innovate and to redefine company culture into architectural design, we are sure of our support in transferring Skanska´s unique Scandinavian spirit to Central Europe and beyond", says Viggo Haremst Partner and Design Director at Henning Larsen's Munich office.
The Danish architectural studio has created a design, whose main characteristics are flexibility and adaptability. The new Skanska lobby concept can be easily rearranged to match the specifics of each and every futureproof office building in the company's portfolio.
However, there are components that are common to every Sommarstuga-inspired lobby. The design is based on several key elements: warm and comfortable light, natural materials, diverse spaces to meet and rest, and openness to the local communities. This is a truly sustainable space.
"Skanska's ambition is to change the way people think about buildings. We're contributing to a better society, and thinking about people is reflected in everything we do. New lobby concept and advanced proptech solutions we implement in our office buildings focus on user experience. All this together aims to make time spent in Skanska developments easy and comfortable. I believe our collaboration with Henning Larsen, will transform the Central European office market", says Katarzyna Zawodna, President and CEO at Skanska's commercial development unit in CEE.
The first lobby designed with Henning Larsen is already being created for a Skanska office project in Warsaw – the high-rise building in the Spark complex. Spark is the first office project in Poland to gain a WELL certificate, which is scheduled to happen in the fourth quarter this year.