Press release
6/27/2018 8:00 AM CET
Skanska Romania, the local division of the world leader in real estate development and construction, announces a new tenant in Campus 6.1, building to be delivered in the third quarter of this year.
GEFCO Romania, the local subsidiary of GEFCO Group, global supplier of industrial supply chains and European leader in automotive logistics, moves its headquarter offices in the first building of Campus 6 this fall.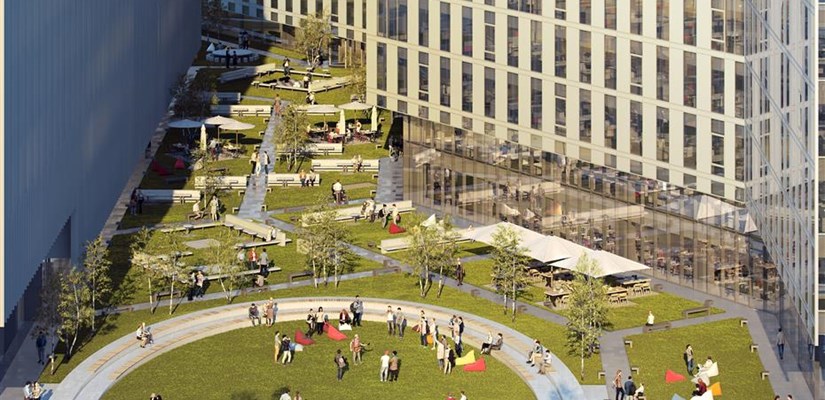 GEFCO employees had the opportunity to choose the building that would be their "home" in the coming years, and their choice was, in a significant majority, Campus 6.1.
"Our approach to office buildings is unique to the domestic market. Skanska Romania builds future-proof spaces that tend to become complex destinations that offer various amenities and go beyond the idea of places where people carry out their professional activities. This has resonated with our most recent tenant who is one of the most important logistics and transport operators in Romania, and led to its choice of Campus 6.1. as the headquarters in which to operate," states Aurelia Luca, Managing Director at Skanska Property Romania.
The surface rented by GEFCO Romania totals 680 square meters.
"GEFCO Romania has been based in the North of Bucharest since its establishment, but over time this area has become very crowded and access has become increasingly difficult. So the idea of "moving to another area of the city" was taken into account. GEFCO's Infinite Proximity culture is something we value greatly within our company and so, according to this we consulted all the company's employees and together we acknowledge the advantages that Campus 6.1 offers. The building has ranked among our top preferences, both in terms of location, due to the proximity of the subway station, the short distance to our agency in Joita and the Polytechnics University, an area with great potential for recruiting new talents, but also because of the amenities that the building features, also considering it is a <<green>> building," states Jérôme Chevrolet, Balkans Area Manager, General Manager for GEFCO Romania and Bulgaria.
GEFCO Romania is present on the local market for 13 years and serves 350 clients annually. Currently, GEFCO Romania operates through six logistics hubs and operates the transport of over 60% of all finished vehicles produced in Romania.
Campus 6 is located in the Polytechnics University area, which is constantly expanding in the development of office buildings. The location of the project is an advantage for many of the companies that intend to move their premises. Campus 6.1. features a series of the WELL certification characteristics that address and consider building occupants, their health and comfort, factors that have direct and proven implications in retention and growth of productivity. There is an emphasis on the quality of air and water in the building, access to natural light, the presence of plants and vegetation, but also on personal comfort, access to healthy food and the influence that buildings have on the human body.
The Campus 6 project will include green areas equipped with electrical outlets and Wi-Fi, retail spaces and electric car charging stations.