Press release
7/26/2017 4:00 PM CET
Skanska begins the construction of the first phase of Equilibrium office project located in the northern part of Bucharest, in the Barbu Vacarescu - Floreasca area. The first building will comprise of 20.800 sq. m GLA and has an estimated delivery time in Q2 2019. Upon completion, the entire two-building complex will offer 40.700 sq. m GLA.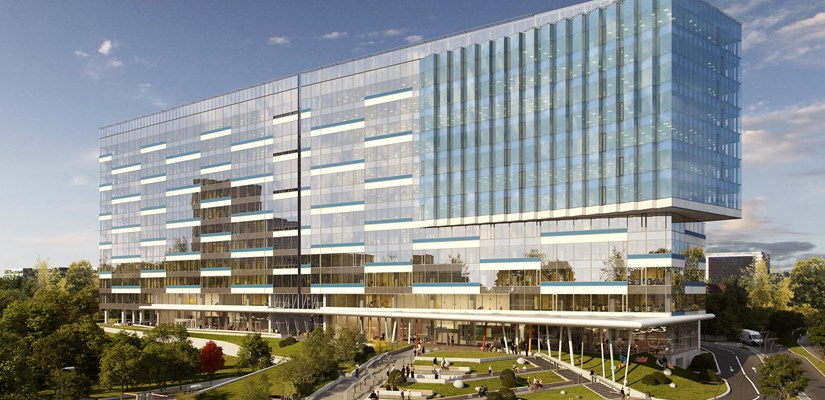 With 12 aboveground floors and 240 underground and aboveground parking places for the first phase, Equilibrium brings a new concept to the Romanian office development scene. Just as the name says it, the complex aims to provide employees the possibility to develop and maintain a life-work balance, through its characteristics, by offering flexibility and seamless integration with facilities that add value to the time spent there.
Equilibrium provides an inspiring, flexible and customizable workspace, ensuring plenty of fresh air and generous access to natural light. Offering unique assets that will fuel inspiration and increase productivity, the project is built around the idea of community and aims to connect people and businesses. The green area in front of the building is open to be enjoyed by the community and tenants, especially by those looking for "that special place" that can fuel their energy and help them reach their full potential.
The project is a unique mix of green relaxation spaces, modern exterior furniture and meeting hubs with wireless connection in all areas and innovative sustainability features such as carbon footprint calculation, dashboard showing energy consumption, high speed chargers for electrical cars and a dedicated application of the building. The project is LEED Gold pre-certified.
Continuing the human-centric approach, each of the facilities is designed to upgrade the daily experience of those working or visiting, such as the open area of the project that becomes a social space after or during office hours or the restaurant that will have extended opening hours to serve those working on a flexible schedule.
Overall, the entire project focuses on shifting the notion of a traditional "workspace" for our tenants towards a livelier, more flexible design and to refresh the overall aspect of the urban space.
"It is a very exciting year for Skanska as we are starting to develop our third office project in Romania. We chose to further expand our presence in Floreasca - Barbu Vacarescu area, in the northern part of the city, as we remain confident that this continues to be one of the popular areas, offering definite advantages to all our future tenants. The look of the location will be totally changed, as the design, architecture and placemaking of Equilibrium bring novelty and innovation. With this development, our main objective is to create an inspiring working environment, a place where people will love to work and spend their day in, a friendly space, with great visibility and transport links, that incorporates the latest green and smart technologies. This is what we at Skanska call a futureproof workplace", said Aurelia Luca, Country Director Skanska Property Romania.