Press release
3/18/2016 11:00 AM CET
Building C of Green Court Bucharest started attracting tenants already, though its completion is forecasted for June 2016. Skanska Romania signed a lease contract with Unica Sport, who becomes a Building C tenant starting with the 1st of June 2016. The transaction was intermediated by Regatta and Unica Sport will lease an office space of 629,62 sqm.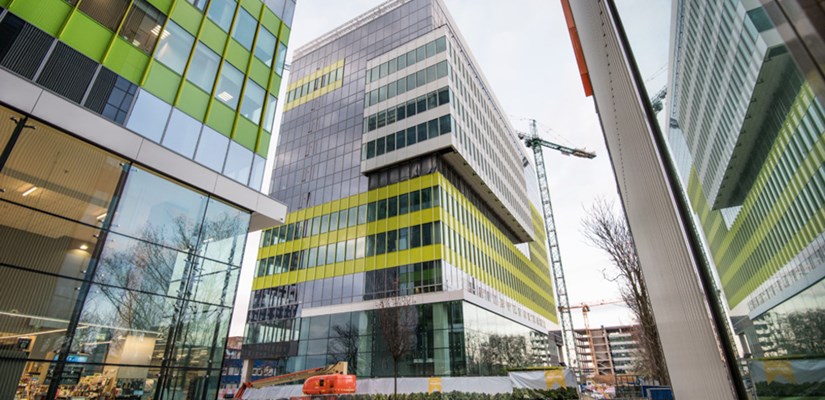 Unica Sport is a Moldavian successful company, founded in 1998, offering health and sport services. Today, they are present in 18 branches and helped a community of over 70,000 clients to reach impressive results through their unique wellness method, an efficient approach towards fitness and health.
"Romania is a market place with a huge potential regarding this type of business development. We were pleased to find out from surveys that Romanians pay a great attention to a healthy nutrition, thus paying attention to the way they look. Hence, these are the values that we promote and we help our clients to be in line with these trends, as there is nothing more precious than our health and families' health. Therefore, we found in Romania a high level of compatibility of Unica Sport values and local consumers. That was the motive of our decision to enter Romania's market.", stated Galina Tomas, Founder Unica Sport.
"We welcome with great pleasure Unica Sport in Building C, which meets their requirements of a healthy workplacand follows the wellbeing principles. We share the same view, the one that a healthy and inspiring work environment stimulates creativity and collaboration, resulting in higher productivity and a better us", says Aurelia Luca, Country Director Skanska Property Romania.
Green Court Bucharest is Skanska's first commercial development project in Romania and is comprised of 3 office buildings, with a total rentable space of 52.000 sqm. Green Court Bucharest is LEED Gold pre-certified and features sustainable solutions used to minimize the building's environmental footprint and significantly reduce its operating costs.
Office building C of Green Court Bucharest will provide a total rentable area of approx. 16.300 sqm, out of the total of 54.500 sqm of the entire complex. Building C will have 12 stories above ground, plus the three levels of underground garage, with a total of 242 parking lots. Its completion is scheduled for Q2 2016.
The third phase of the Green Court Bucharest will also feature a number of sustainable solutions in order to minimize the building's environmental footprint and significantly reduce its operating costs. Among the green solutions implemented in the project are: energy efficient façade which reduces the solar heat gains, enhanced fresh air flow rate for a healthier working environment, energy efficient lighting systems equipped with motion and intensity sensors, charging stations for electrical cars, parking and facilities for cyclists (lockers and showers).
Workplaces by SKANSKA
The Workplaces concept is a Skanska innovation released and implemented worldwide since 2013, which is now available in Green Court Bucharest. The concept is based on four sustainable development principles: work environment, location and placemaking, tenant profitability and green.
Work environment: Skanska's goal is to create excellent work environments where businesses and people can thrive. A healthy and inspiring work environment stimulates creativity and collaboration, reflects the values of companies and helps attract the best employees. This is why everybody working in Green Court Bucharest will be able to enjoy an interior courtyard with numerous green spaces, networking areas and free Wi-Fi connection, suitable for breaks or creative working sessions. In addition, they will have at their disposal lockers, showers and biker facilities.
Location and placemaking: Skanska is committed to providing places that contribute to the urban environment, but also places for people to connect with customers, co-workers and communities. In Romania, Green Court Bucharest is built on Gara Herastrau Street, in the Floreasca – Barbu Vacarescu area, one of the office locations in Bucharest with the highest potential. Easy access to the city Centre and airport and proximity to public transportation are some of the advantages of this location.
Tenant profitability: Modern and innovative workplaces contribute to higher productivity, less sick-leave and enhanced flexibility to meet future needs and reach higher levels of profitability. Reliability, savings and productivity are the key features of the new workplaces in Green Court Bucharest. Tenants will benefit from personalized working spaces, easily adaptable for future needs, in which their employees will be healthier and happier.
Green: The first step towards sustainability is green building and this is why Skanska uses technologies that make buildings more resource-efficient, more comfortable, healthier and better equipped, while controlling the risks of rising energy costs. Green Court Bucharest makes no exception, so the project is built following the principles of sustainable development which translate into innovative solutions for reducing the building's impact on the environment and also for lowering the operational costs of the building.
Skanska Romania
Skanska Romania is an innovative developer and constructor of green office buildings creating friendly environment for business growth. The company has been operating in Romania since 2011 and is part of the Skanska Group, world leader in project development and construction. The projects of Skanska Romania offer top-quality office space at great locations, which ensures success and satisfaction of tenants and investors. All the investments of Skanska Romania will undergo LEED certification process confirming their compliance with the principles of sustainable development, optimal energy consumption and superior work environment
Skanska Commercial Development Europe
SKANSKA Commercial Development Europe initiates and develops property projects in office, logistics and commercial buildings. The company's operations are concentrated in metropolitan areas in Hungary, the Czech Republic, Romania and Poland and are conducted in four local units: Skanska Property Czech Republic, Skanska Property Hungary, Skanska Property Romania and Skanska Property Poland. More information about Skanska Commercial Development Europe can be found at www.Skanska.com/property.
Skanska Group
Skanska is one of the world's leading project development and construction groups. We offer competitive solutions for the most complex assignments. Our people manage the entire chain from initial concept to completed projects in construction, development of commercial and residential projects and public-private partnerships.
Together with our customers and partners, we develop and build for a sustainable future with the ultimate goal of improving people's lives. Thanks to this dedication we are involved in some of the most interesting projects of our time. With thousands of projects going on there is often news to report. Learn more at www.skanska.com.
We are 58,000 colleagues across 11 selected home markets in Europe and the United States. Our headquarter is located in Stockholm, Sweden. Skanska's revenue in 2014 totalled SEK 145 billion. Skanska AB is listed on the NASDAQ Stockholm.
Contact:
Monica Bejan
, Communication & Marketing Coordinator