Press release
7/23/2015 8:00 AM CET
Skanska announces a new tenant for Building B of Green Court Bucharest: RINF Outsourcing Solutions, an international software development company with a wide-ranging portfolio of projects covering fields like: cross-platform integration for retail check-out systems, automotive connectivity, gaming automation, R&D prototyping and multi-level user support.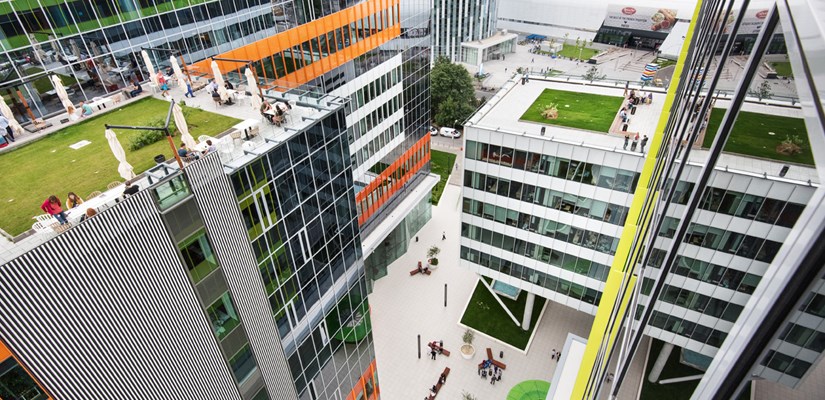 RINF Outsourcing Solutions will be moving into a 1,843.8 sqm office space in January 2016. The transaction was intermediated by DTZ Equinox. RINF Outsourcing Solutions is another tenant in Green Court Bucharest Building B, after Sanofi, Adecco, Carrefour Colgate Palmolive, bringing the occupancy rate to 72 %.
"Green Court Bucharest is built for modern companies, which invest both in their businesses and the well-being of their people. We are glad we have found RINF, a partner with whom we share values and views of the future. Within their new offices they will find an adaptable space, which will suit their development needs and will offer a healthy workplace for their employees. We would like to thank RINF for the collaboration so far." says Marcin Łapiński, President Skanska Property Romania.
"RINF invests in technology with the precise aim that our clients can gain a competitive edge. In other words, we integrate R&D components in our solutions, which increase their implicit user relevance and significantly enhance the market potential. In order to achieve this, we foster a working environment fit for 'people with an attitude', who can challenge the old industry processes and models with proven experience.
In this context, we chose Green Court Bucharest because it is the adequate environment for our employees to perform at Western (Anglo-Saxon) standards. I am confident that this choice is one of the key elements that will enable RINF to continue its growth as a European business that integrates the recognized best practices alongside with the relevant elements of novelty." stated Constantin Iftime, CEO at RINF Outsourcing Solutions.
"Since the beginning of our collaboration in 2011, RINF was attracted by the Central-North of Bucharest (Barbu Vacarescu – Floreasca) area, which is continuously growing due to the community vibe, the retail services and the proximity to the Metro station. Green Court Bucharest fitted perfectly to RINF requirements, providing a premium working environment and the facilities of an A Class, Green certified building." adds Eduard Turcoman, Associate Director Office & Industrial at DTZ Echinox.
Green Court Bucharest is the first project developed by Skanska in Romania and is comprised of 3 office buildings, with a total rentable space of 52.000 sqm. Building B will have 18.000 sqm in 12 stories above ground, plus the three levels of underground garage, with a total of 315 parking lots. Its completion is scheduled for Q2 2015.
Green Court Bucharest is LEED Gold pre-certified and features sustainable solutions used to minimize the building's environmental footprint and significantly reduce its operating costs. The modern technologies such as the energy efficient double skin facade and the illuminating system equipped with motion and intensity sensors will guarantee a comfortable work environment. Special parking places and facilities for bicycles, a green interior courtyard with free Wi-Fi and charging plugs for electrical cars will also be available.
Skanska Romania
Skanska Romania is an innovative developer of green office buildings creating friendly environment for business growth. The company has been operating in Romania since 2011 and is part of the Skanska Group, world leader in project development and construction. The projects of Skanska Romania offer top-quality office space at great locations, which ensures success and satisfaction of tenants and investors. All the investments of Skanska Romania will undergo LEED certification process confirming their compliance with the principles of sustainable development, optimal energy consumption and superior work environment.
Skanska Commercial Development Europe
SKANSKA Commercial Development Europe initiates and develops property projects in office, logistics and commercial buildings. The company's operations are concentrated in metropolitan areas in Hungary, the Czech Republic, Romania and Poland and are conducted in four local units: Skanska Property Czech Republic, Skanska Property Hungary, Skanska Property Romania and Skanska Property Poland. More information about Skanska Commercial Development Europe can be found at www.Skanska.com/property.
Skanska Group
Skanska is one of the world's leading project development and construction groups. We offer competitive solutions for the most complex assignments. Our people manage the entire chain from initial concept to completed projects in construction, development of commercial and residential projects and public-private partnerships.
Together with our customers and partners, we develop and build for a sustainable future with the ultimate goal of improving people's lives. Thanks to this dedication we are involved in some of the most interesting projects of our time. With thousands of projects going on there is often news to report. Learn more at www.skanska.com.
We are 58,000 colleagues across 11 selected home markets in Europe and the United States. Our headquarter is located in Stockholm, Sweden. Skanska's revenue in 2014 totaled SEK 145 billion. Skanska AB is listed on the NASDAQ Stockholm
RINF Outsourcing Solutions
RINF is an international software development company, with a wide-ranging portfolio of projects covering fields like: cross-platform integration for retail check-out systems, automotive connectivity, gaming automation, R&D prototyping and multi-level user support.
DTZ
DTZ is a global leader in commercial real estate services providing occupiers, tenants and investors around the world with a full spectrum of property solutions. The company's core capabilities include agency leasing, tenant representation, corporate and global occupier services, property management, facilities management, facility services, capital markets, investment and asset management, valuation, research, consulting, and project and development management. DTZ provides property management for 1.9 billion square feet, or 171 million square meters, and facilities management for 1.3 billion square feet, or 124 million square meters. The company completed $63 billion in transaction volume globally in 2014 on behalf of institutional, corporate, government and private clients. Headquartered in Chicago, DTZ has more than 28,000 employees who operate across more than 260 offices in 50 countries and represent the company's culture of excellence, client advocacy, integrity and collaboration.
DTZ announced an agreement to merge with Cushman & Wakefield in a May 11 press release. The new company, which will operate under the Cushman & Wakefield brand, will have revenues over $5.5 billion, over 43,000 employees and will manage more than 4 billion square feet globally on behalf of institutional, corporate and private clients. The agreement is subject to customary closing conditions and is expected to close before the end of 2015. For further information, visit: www.dtz.com
For further information, please contact:
Monica Bejan
Skanska Romania
Phone: 0725 726 444
E-mail:

Lidia Pitulea
The Public Advisors
Phone: 0733 300 777
E-mail: