Press release
4/20/2015 8:00 AM CET
Skanska announces that Green Court Bucharest Building A has received the LEED Gold CS certification.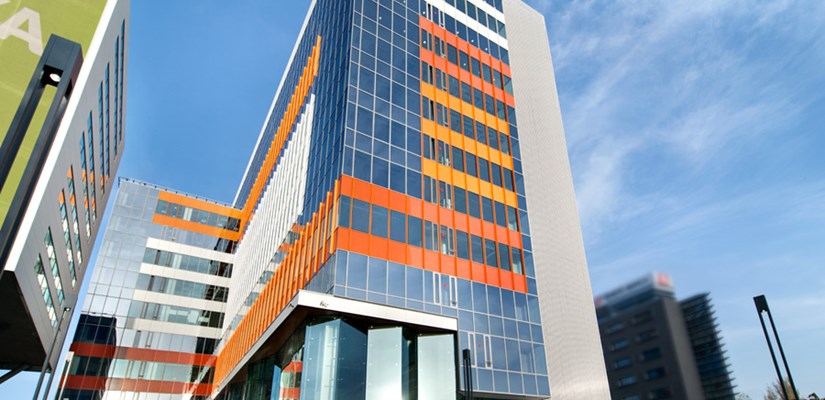 "We are very happy for receiving the LEED GOLD CS certification for our first office project in Romania – Green Court Bucharest. This is fully in line with Skanska global strategy of being leader in green, sustainable development. This certificate is also confirmation of high quality design and healthy working environment which our tenants can take advantage of", says Marcin Łapiński, President Skanska Property Romania.
LEED (Leadership in Energy & Environmental Design) is a green building certification program that recognizes best-in-class building strategies and practices. To receive LEED certification, building projects satisfy prerequisites and earn points to achieve different levels of certification.
There are four levels of LEED certification, depending on how many points the project has earned: certified, silver, gold or platinum. According to the USGBC, the areas measured by LEED are: Sustainable Sites, Water Efficiency, Energy and Atmosphere, Materials and Resources, Indoor Environmental Quality, Innovation in Design and Regional Priority.
Green Court Bucharest is registered under the LEED for Core & Shell Development rating system.
Skanska Romania
Skanska Romania is an innovative developer of green office buildings creating friendly environment for business growth. The company has been operating in Romania since 2011 and is part of the Skanska Group, world leader in project development and construction. The projects of Skanska Romania offer top-quality office space at great locations, which ensures success and satisfaction of tenants and investors. All the investments of Skanska Romania will undergo LEED certification process confirming their compliance with the principles of sustainable development, optimal energy consumption and superior work environment.
Skanska Commercial Development Europe
SKANSKA Commercial Development Europe initiates and develops property projects in office, logistics and commercial buildings. The company's operations are concentrated in metropolitan areas in Hungary, the Czech Republic, Romania and Poland and are conducted in four local units: Skanska Property Czech Republic, Skanska Property Hungary, Skanska Property Romania and Skanska Property Poland. More information about Skanska Commercial Development Europe can be found at www.Skanska.com/property.
Skanska Group
Skanska is one of the world's leading project development and construction groups. We offer competitive solutions for the most complex assignments. Our people manage the entire chain from initial concept to completed projects in construction, development of commercial and residential projects and public-private partnerships.
Together with our customers and partners, we develop and build for a sustainable future with the ultimate goal of improving people's lives. Thanks to this dedication we are involved in some of the most interesting projects of our time. With thousands of projects going on there is often news to report. Learn more at www.skanska.com.
We are 58,000 colleagues across 11 selected home markets in Europe and the United States. Our headquarter is located in Stockholm, Sweden. Skanska's revenue in 2014 totaled SEK 145 billion. Skanska AB is listed on the NASDAQ Stockholm
For further information, please contact:
Lidia Pitulea
The Public Advisors
Phone: 0733 300 777
E-mail:

Monica Bejan
Skanska Romania
Phone: 0725 726 444
E-mail: