Press release
4/16/2015 8:00 AM CET
Skanska and Adecco Romania announce the signing of a leasing contract for 920 sqm in Building B of Green Court Bucharest. Adecco Romania, the HR market leader and member of Adecco Group, the world's leading provider of HR solutions, will move its offices in June 2015. This new move means that the second building of Green Court Bucharest is now 18% leased. The transaction was intermediated by Jones Lang LaSalle.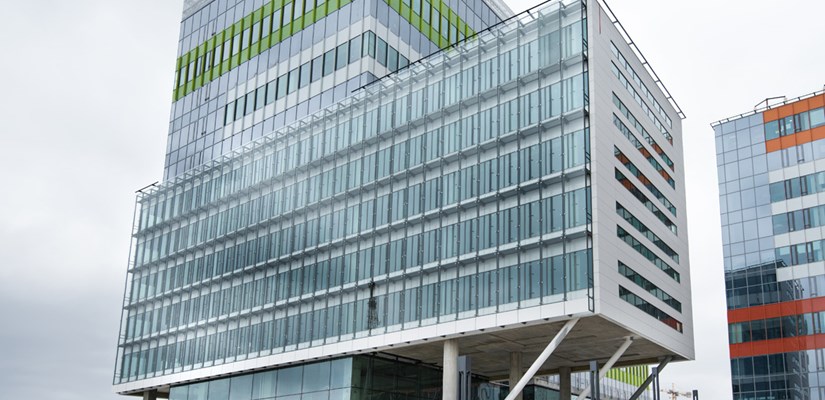 "We are happy to welcome another reputable company in Green Court Bucharest and we are honoured that they have chosen our project for their new offices. We build offices that are tailor made for each one of our tenants, so that they can have real, long term benefits, such as a productive work environment and happy, healthy and creative employees. I would like to thank Adecco for their trust and great collaboration throughout this process", says Marcin Łapiński, President Skanska Property Romania.
The 920 sqm leased by Adecco Romania will accommodate its headquarters and a recruitment agency.
Green Court Bucharest is comprised of 3 office buildings and offers a total rentable space of 52.000 sqm. Building B will have 18.000 sqm, 12 stories above ground, plus the three levels of underground garage, with a total of 315 parking lots. Its completion is scheduled for Q2 2015.
Green Court Bucharest features numerous sustainable solutions in order to minimize the building's environmental footprint and significantly reduce its operating costs. The modern technologies such as the energy efficient double skin facade and the illuminating system equipped with motion and intensity sensors will guarantee a comfortable work environment. Special parking places and facilities for bicycles, a green interior courtyard with free Wi-Fi and charging plugs for electrical cars will also be available.
Skanska Romania
Skanska Romania is an innovative developer of green office buildings creating friendly environment for business growth. The company has been operating in Romania since 2011 and is part of the Skanska Group, world leader in project development and construction. The projects of Skanska Romania offer top-quality office space at great locations, which ensures success and satisfaction of tenants and investors. All the investments of Skanska Romania will undergo LEED certification process confirming their compliance with the principles of sustainable development, optimal energy consumption and superior work environment.

Skanska Commercial Development Europe
SKANSKA Commercial Development Europe initiates and develops property projects in office, logistics and commercial buildings. The company's operations are concentrated in metropolitan areas in Hungary, the Czech Republic, Romania and Poland and are conducted in four local units: Skanska Property Czech Republic, Skanska Property Hungary, Skanska Property Romania and Skanska Property Poland. More information about Skanska Commercial Development Europe can be found at www.Skanska.com/property.

Skanska Group
Skanska is one of the world's leading project development and construction groups, with expertise in construction, development of commercial properties and residential projects as well as public-private partnerships. Based on the Group's global environmental know-how, Skanska aims to be a leader in the development and construction of green projects. The Group currently has 57,000 employees in selected home markets in Europe, the U.S. and Latin America. Skanska's revenue in 2013 totalled SEK 136 billion (EUR 15.8 billion).
Adecco Romania
Adecco Romania is currently leading the Romanian HR market with 17 offices in 14 cities. It has a market share of 23% and servers more than 300 clients every day. With over 1300 permanent placements per year Adecco Romania offers services of Permanent Placement (Recruitment and Selection), Temporary/Freelance assignments, Outsourcing/Project Management, Mass Recruitment, Payroll, On site, Assessment Center and Outplacement.
For further information, please contact:
Lidia Pitulea
The Public Advisors
Phone: 0733 300 777
E-mail:

Monica Bejan
Skanska Romania
Phone: 0725 726 444
E-mail: